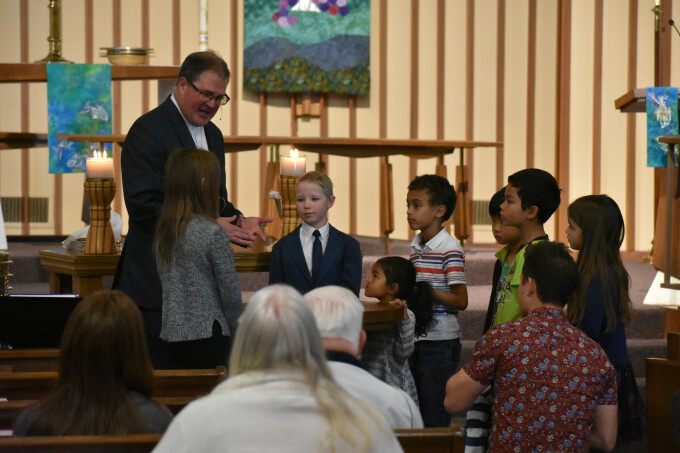 In three years from now, what will Clairemont Lutheran Church be known for?
Hopefully we will still be a beacon of the gospel of Jesus Christ, a
community of faith in this part of the City of San Diego. But what exactly does that mean? We all may have different answers to these and other questions when we take the time to think about the vision for our congregation.
For some, it may be the tried and true Classic Worship on Sunday
mornings: this is the place where you can experience the ancient ritual of the Christian faith combined with a modern, contextual take on the scripture, along with a choir and great organ music. Maybe it's life groups and other ministries which cater more to the elderly among us, perhaps adding to our staff a visitation minister and a parish nurse. Maybe the focus is to be the best
grandparents and retirees church in the city.
Or perhaps our desire to see more children and youth in the church will blossom into programs fostering family involvement in the life of the congregation. Maybe this includes alternative forms of worship with different styles of music and different musicians. Maybe this type of worship happens on a Saturday or
Sunday evening instead of Sunday morning. Perhaps the goal is to be the best Sunday School and Youth program in our area.
Could Clairemont Lutheran Church be the community of faith for the working adult, the busy family, or the college student?
This congregation is blessed with a rich history of faith and community outreach. We were blessed by founders who gave us a landmark church campus, and now it's time for us to continuing building physically and spiritually for the next generation of those who will call Clairemont Lutheran Church their community of faith. Perhaps it's time to step out in faith and volunteer more and increase our giving.
These are just some of the things we as a congregation could consider when we are thinking about the vision of our faith
community. A simple plan of maintaining what we've done in the past may not be the best guidance for the future. Rather, we should look deep into our hearts and ask what we want our
congregation to mean to us and those in the Clairemont community this year, next year, and the next several years after that. What legacy do we want our congregation to have?
But first, we must recognize what God is calling us to do. Then we must prayerfully decide how we, individually and collectively,
will respond to God's call.