Building Project
November 2020 Update
The Building Committee is working with the builder to bring the overall cost of the project down.
The Raise the Roof Campaign has started to help raise the additional funding needed to close the gap and get started with the project. You can read more about the campaign below.
If you have any questions, please contact Gary Jaus (phone number available in member directory) or email
You can view site plans and renderings for the project here.
Donations to the building project are tax deductible and can be made online by clicking the button below or by visiting the church office.

A new center for community gathering
Our current Fellowship Hall building was constructed in 1954. It was the first building to be constructed on the campus of the newly formed congregation, and was the original worship space until construction of the current Sanctuary building was completed in 1968.
Over the years our Fellowship Hall has served the congregation and the community well as a place to have a hot meal, a place for support groups to meet and encourage one another, a place for concerts and receptions, and a place for high school and middle school youth to grow in their faith. But numerous maintenance issues and the need for more space has proven the need for a newer, better facility.
Make sure to check out the building plans and renderings here.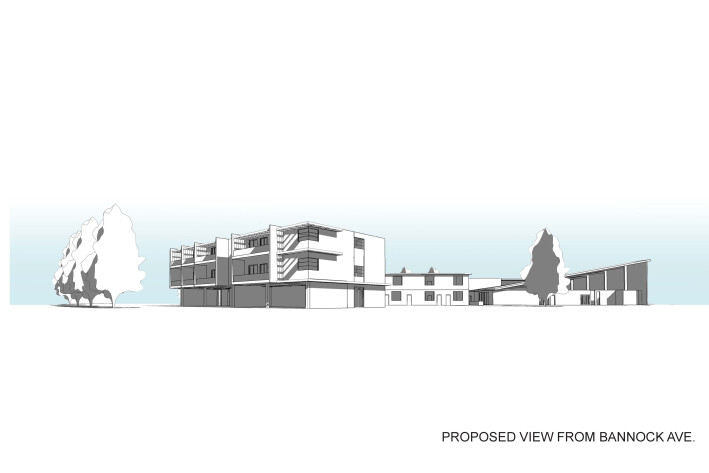 Yes, in God's back yard
The second part of our building project is the construction of an affordable housing building. This two to three story building would be placed right in the church parking lot, which is a portion of the campus that is highly underutilized. This is a small part of what the congregation can do to help San Diego residents get a roof over their heads that they can afford, and once completed, could be the prototype for other faith communities in San Diego as a part of the "Yes, in God's back yard" initiative.
KPBS did a feature story about the project:
Additional campus improvements
Other capital improvements will also be made to the church campus, including planting new vegetation, building new sidewalks and drainage, and the construction of an ADA compliant entrance to the Sanctuary building.
How you can help
You can help support Clairemont Lutheran Church / Iglesia Luterana Clairemont with the building project in a variety of ways:
Pray for the project, including the permitting and approval processes, the building committee, the architects and construction workers, and for the whole congregation as we undertake this endeavor
Volunteer - planting new vegetation, helping move in equipment, helping with other maintenance projects around the church campus
Make a financial contribution
Visit the campus and join in the celebration as each phase of the project is complete
Please contact the the Building Committee directly with any questions: