Worship
Wednesdays
Sunday Mornings
| | | |
| --- | --- | --- |
| 8:30 a.m. | 10:00 a.m. | 11:30 a.m. |
| | | |
All of our worship gatherings contain the core elements of the traditional pattern of the Christian assembly: Gathering, Word, Thanksgiving and Sending. Music is featured throughout the entire gathering time and preaching happens in the middle with communion usually at the end of worship.
How we observe worship may vary between different gathering times and according to special observances and celebrations throughout the year.
---
Sunday Worship Gatherings

8:30 a.m. - Classic Worship

Classic Worship observes the ancient rituals and traditions of Christian worship in a modern context.
This gathering tends to be more formal with a choir processional, altar boys and girls, and with those assisting with worship, including our ministers, wearing robes to signify their service to God. Traditional hymns and chants many be sung, and special music may be offered by our choir.
A traditional communion liturgy is observed the first Sunday each month, while the "Table Prayer" liturgy is observed the third Sunday of each month. The second and fourth Sundays of the month are traditional liturgy of word and prayer (no communion).

10:00 a.m. - Celebration Worship
Celebration Worship is an inter-generational gathering which tends to be less formal and more on the casual side.
We sing hymns, spirituals, folk and contemporary worship songs accompanied on keyboard, piano or pipe organ (currently, there is no choir or band for this gathering - but we are looking for those who want to help with music).
Sunday School is offered during this worship gathering, and a special Children's Message is also featured.
Communion is observed every Sunday. A traditional communion liturgy is used the first Sunday of each month, and the "Table Prayer" liturgy is used on the third Sunday each month. Other Sundays are a simple, spoken communion observance.
Occasionally, this gathering is bilingual (English and Spanish). On high holy days and other special celebrations, a traditional worship gathering like that of the early worship will be observed instead of the usual Celebration Worship format.
For more specific information about worship, please contact us.

11:30 a.m. - Servicio en Español

Worship in Spanish is a balance of traditional, casual and expressive worship. We sing hymns, folk and contemporary worship songs led by our musicians.
Sunday School for children is offered (in English) during this gathering. Communion is observed every Sunday.
For more information on Spanish Ministries, click here.
---
Wednesday Worship Gatherings
During the season of Lent, February 26th through April 1st
*12:00 p.m. (Noon) - Worship with communion

A simple time of hymns accompanied on piano, sharing of the word and the Lord's Supper.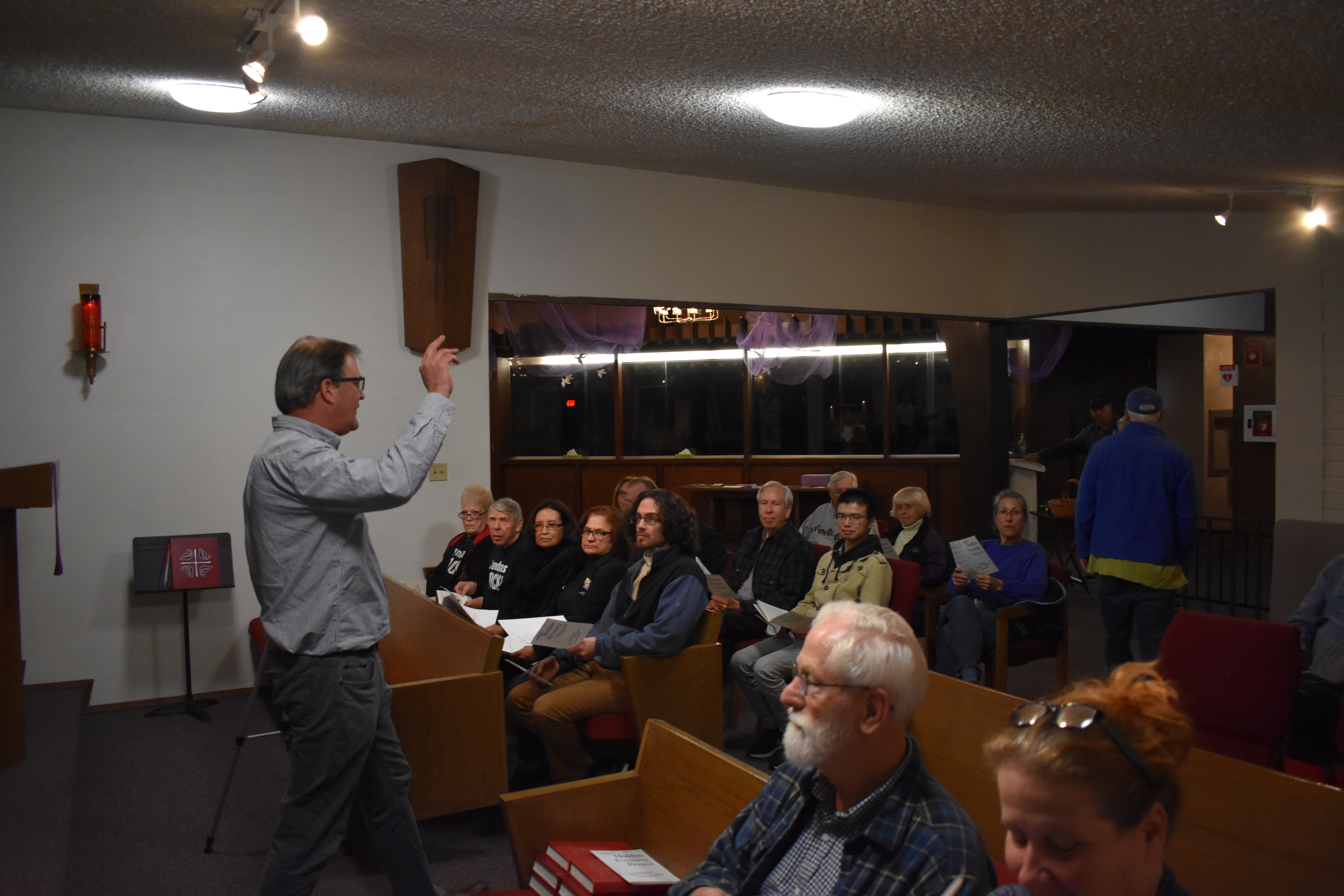 *6:30 p.m. - Evening Worship (vespers)

We gather in the chapel for a singing worship with the word and candlelight. We typically use the "Holden Evening Prayer" liturgy, originally written for and dedicated to the people of Holden Village, a Christian retreat center in Washington state.
*Both Wednesday worship gatherings are followed by a discussion series based on a book study.