Worship
Sunday Mornings
| | | |
| --- | --- | --- |
| 8:30 a.m. | 10:00 a.m. | 11:30 a.m. |
| | | |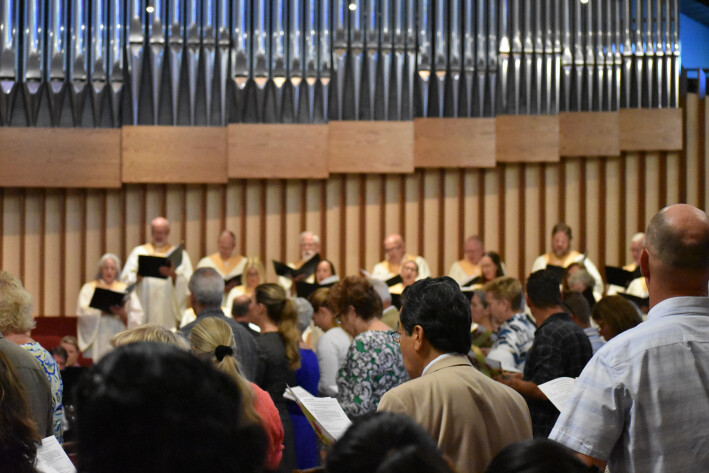 The Traditional Pattern for the Christian Assembly
All of our worship gatherings contain these core elements:
Gathering

- The assembly joins together for praise and worship of Almighty God. There may be singing, acts of confession and forgiveness, prayer and testimony, and other acts of praise and/or announcements.
Proclamation (Word) - The scriptures are opened and read aloud to the assembly. The minister or a lay person preaches the good news of Christ while reflecting on the day's readings. Other acts which proclaim the good news and God's promise of salvation, such as music and dramatic presentations, may also take place.
Response (Thanksgiving)

- The assembly responds to the word. Responses may include music, prayer, testimony, baptism, profession of faith, profession of membership in the church and sharing a greeting of peace with one another. In gatherings with Holy Communion (the Lord's Supper), the actions of Jesus in the upper room during the Passover celebration are recalled and the supper is celebrated. In gatherings without Holy Communion, prayers and acts of thankfulness for God's mighty work through Jesus Christ are observed.
Sending

- The assembly is sent forth to serve God and neighbor. Announcements, music, singing, prayers and blessings may be observed. A time of fellowship and involvement may take place afterward.
While all of our worship gatherings contain these core elements, how worship is observed may vary between different gathering times and according to special observances and commemorations.
---
Sunday Worship Gatherings

8:30 a.m. - Classic Worship

Classic Worship observes the ancient rituals and traditions of Christian worship in a modern context.
This gathering tends to be more formal with a choir processional, altar boys and girls, and with those assisting with worship, including our ministers, wearing robes to signify their service to God. Traditional hymns and chants many be sung, and special music may be offered by our choir.
A traditional communion liturgy is observed the first Sunday each month, while the "Table Prayer" liturgy is observed the third Sunday of each month. The second and fourth Sundays of the month are traditional liturgy of word and prayer (no communion).

10:00 a.m. - Celebration Worship
Celebration Worship is an inter-generational gathering which tends to be less formal and more on the casual side.
We sing hymns, spirituals, folk and contemporary worship songs accompanied on keyboard, piano or pipe organ (currently, there is no choir or band for this gathering - but we are looking for those who want to help with music).
Sunday School is offered during this worship gathering, and a special Children's Message is also featured.
Communion is observed every Sunday. A traditional communion liturgy is used the first Sunday of each month, and the "Table Prayer" liturgy is used on the third Sunday each month. Other Sundays are a simple, spoken communion observance.
Occasionally, this gathering is bilingual (English and Spanish). On high holy days and other special celebrations, a traditional worship gathering like that of the early worship will be observed instead of the usual Celebration Worship format.
For more specific information about worship, please contact us.

11:30 a.m. - Servicio en Español

Worship in Spanish is a balance of traditional, casual and expressive worship. We sing hymns, folk and contemporary worship songs led by our musicians.
Sunday School for children is offered (in English) during this gathering. Communion is observed every Sunday.
For more information on Spanish Ministries, click here.