Plan a Visit
We love God and we love people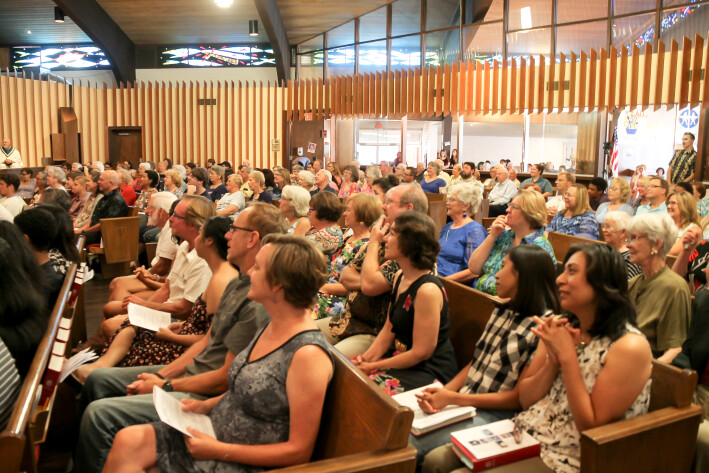 We are a diverse group of Christians, young and old, from different cities and even different countries, from all sorts of different life backgrounds. We are a neighborhood Christian church for all people, and you are welcome here.
Come celebrate Jesus this Sunday
The church campus is located at 4271 Clairemont Mesa Blvd., San Diego, CA 92117, across from the Clairemont Town Square.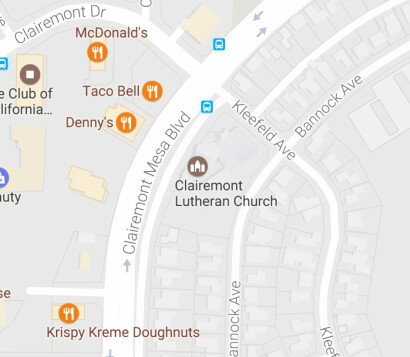 Google Map
Just look for the red brick buildings and a very tall cross.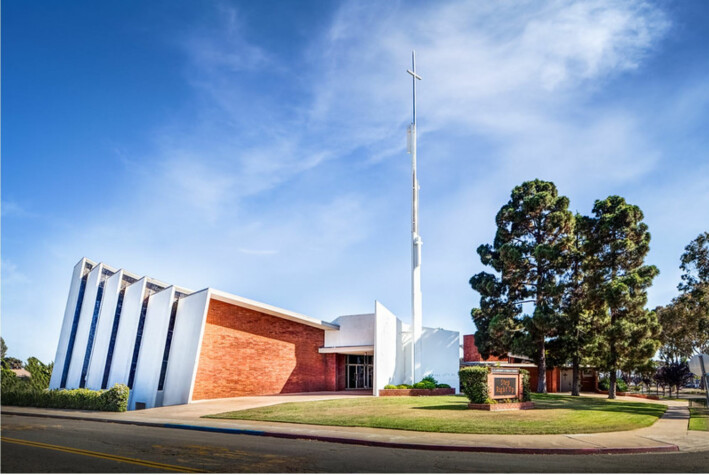 (Photo by Chimay Bleue)
Parking is located along the frontage road, or in our parking lot on the west side of the campus (behind the brick buildings). MTS Bus Routes 41, 44 and 105 all stop near the church campus. Contact the Church Office if you need more detailed directions.
When you come to the church campus, wear what makes you feel comfortable. Jeans and a t-shirt are definitely acceptable. You don't have to hide your tattoos or piercings (we don't hide ours).
Restrooms are located inside the Sanctuary Building and in the breezeway to the courtyard.
Sunday Worship Times
| | | |
| --- | --- | --- |
| 8:30 a.m. | 10:00 a.m. | 11:30 a.m. |
| | | |
Worship usually lasts about one hour and 10 minutes. Click the links to find out more information about each worship gathering.
When you walk into the Sanctuary building (the large one with the stained glass windows), you may be welcomed by a greeter or usher. They are there to help you find a seat or answer any questions, and will most likely hand you a bulletin (the order of worship). The bulletins are also usually on a tray or window ledge next to the doors of the worship space for those who arrive extra early, or after worship has started.
Participating in Worship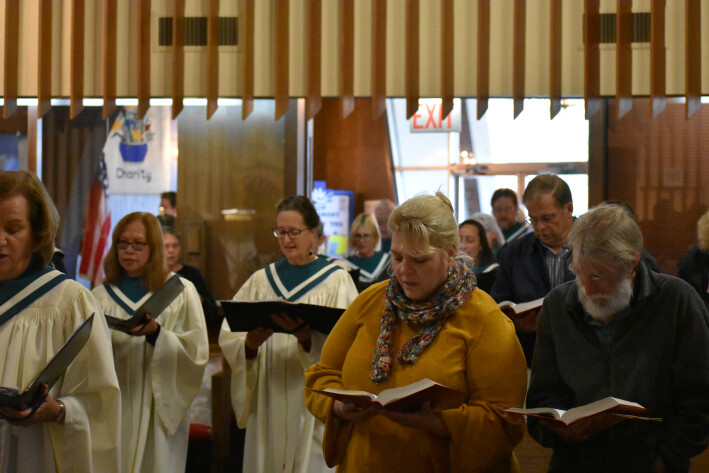 We encourage all persons to fully participate in worship, including singing. We use the Evangelical Lutheran Worship hymnal, which are in each pew. The hymn numbers are in bold print on the top corners of the page, while page numbers for the communion liturgy and other responses are on the bottom in small print. Song lyrics may also be printed in your bulletin.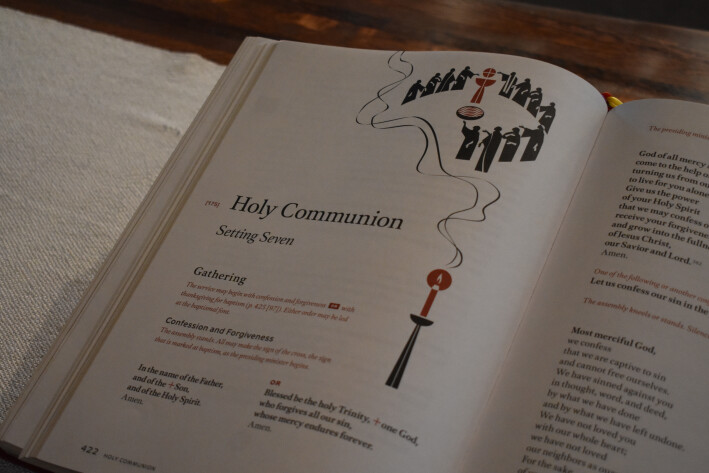 Bibles are also available in each pew if you would like to follow along with the readings. If you would like a bible for you or a family member, please ask an usher or church staff member; we have a variety of bibles available for free.
Visitors should not feel pressured to give a financial offering during worship. But, make sure to fill out a Blue Slip (located in the pew pocket) and place in the offering plate. This lets us know of your presence with us and how we can pray for you or if you would like to meet with a pastor.
Communion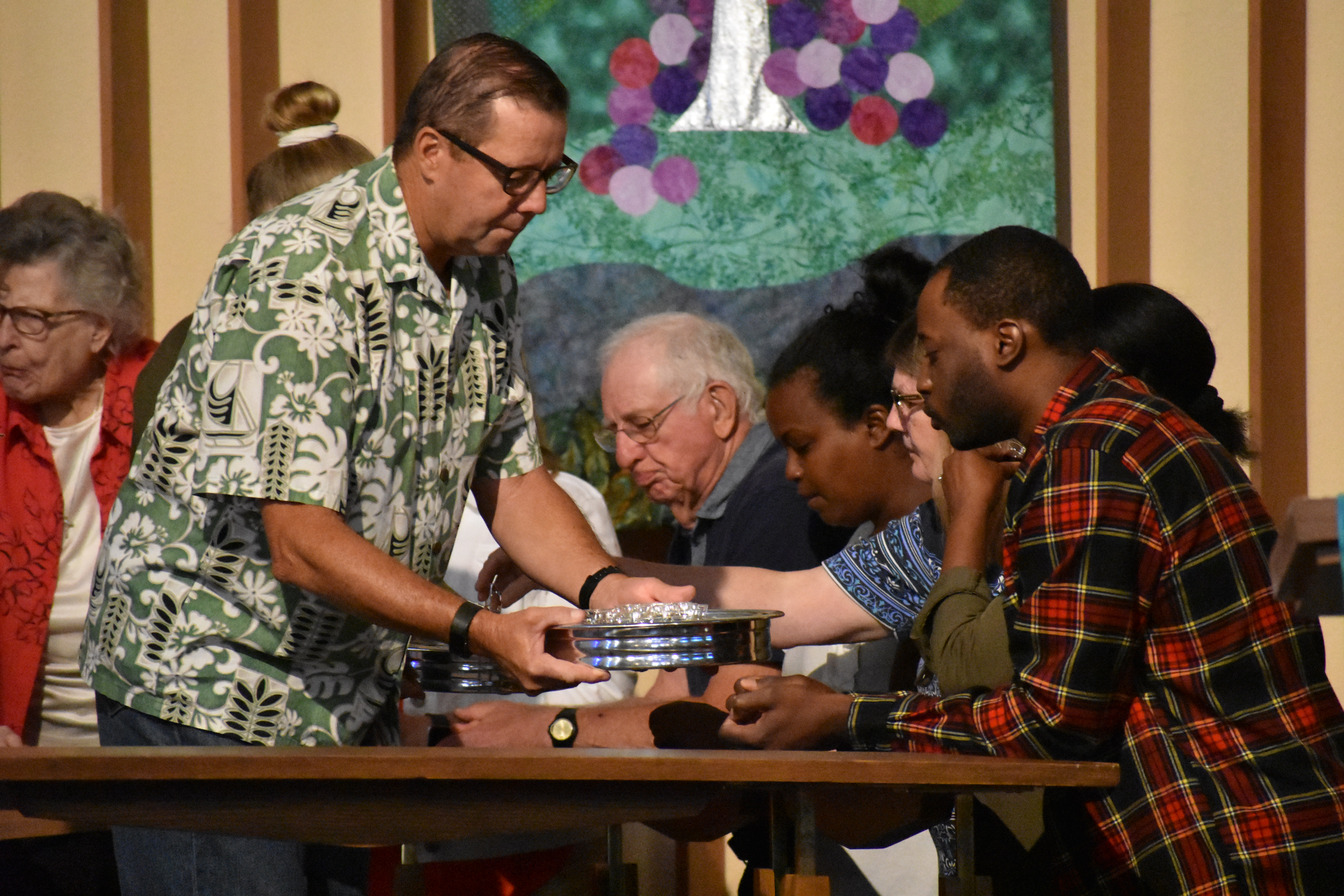 We invite all persons to come forward for communion near the end of worship. You don't have to be a member of any church to partake. All that we ask is that you believe and trust in Jesus Christ. As Christians in the Lutheran tradition, we affirm the real presence of Christ in this holy meal.
Children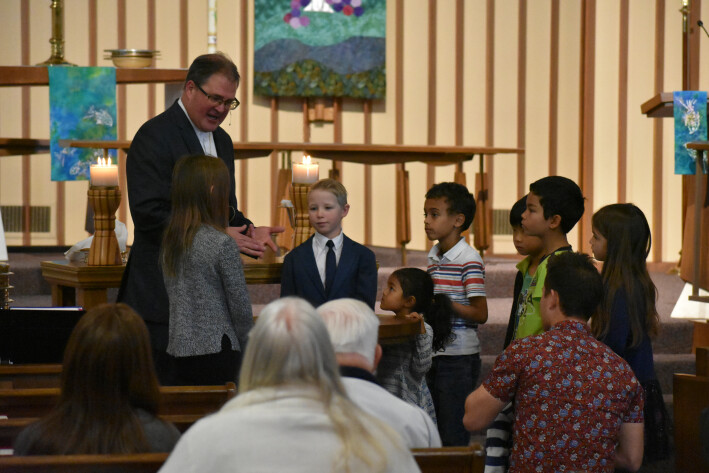 Children are especially welcome to worship. We have activity bags available for children at the entrance of the sanctuary. For children who need a little extra room to move around and just be themselves, we have a space in the chapel dedicated to children. A church staff member or volunteer is always there to watch children, or you are welcomed to stay with your child and listen to the worship over the speaker system.
From September through July, we offer Sunday School for children (in English) in first through fifth grades in the Sunday School classroom in the lower level of the Sanctuary Building. Sunday School takes place during the 10:00 a.m. and 11:30 a.m. worship gatherings.
Hope to see you soon