Holy Week and Easter
Join us as we observe and celebrate God's mighty acts through Jesus Christ, our Savior or Lord.
***NOTE: Previous gatherings from Holy Week can be found on our Worship Live Stream page.
Saturday, April 3rd
The Great Vigil of Easter
Join us as we celebrate our Lord's passover from death to life in this special online worship.
April 3 7:00 p.m. Easter Vigil (online)
Sunday, April 4th
Resurrection of our Lord
Join us as we celebrate the resurrection of our Lord Jesus Christ, the savior of the world.
April 4 6:30 a.m. Easter Sunrise Worship
Join us on the front lawn for a special Sunrise Worship with a message from Pastor Cyndi Jones. Dress appropriately.
This worship will not be live streamed.
April 4 8:30 a.m. Easter Sunday Worship
Join us for a traditional Easter Sunday worship with a message from our Senior Pastor, the Rev. Dr. Jonathan Doolittle. Communion will be celebrated.
Worship will be in-person and online.
4 de Abril 11:30 a.m.
Domingo de Resurrección
Únase a nosotros mientras celebramos la resurrección de nuestro Señor Jesucristo.
El servicio se llevará a cabo en línea a través de nuestro sitio web y en persona.
---
Directions
Our church campus is located at 4271 Clairemont Mesa Blvd., San Diego, CA 92117, across the street from the Clairemont Town Center.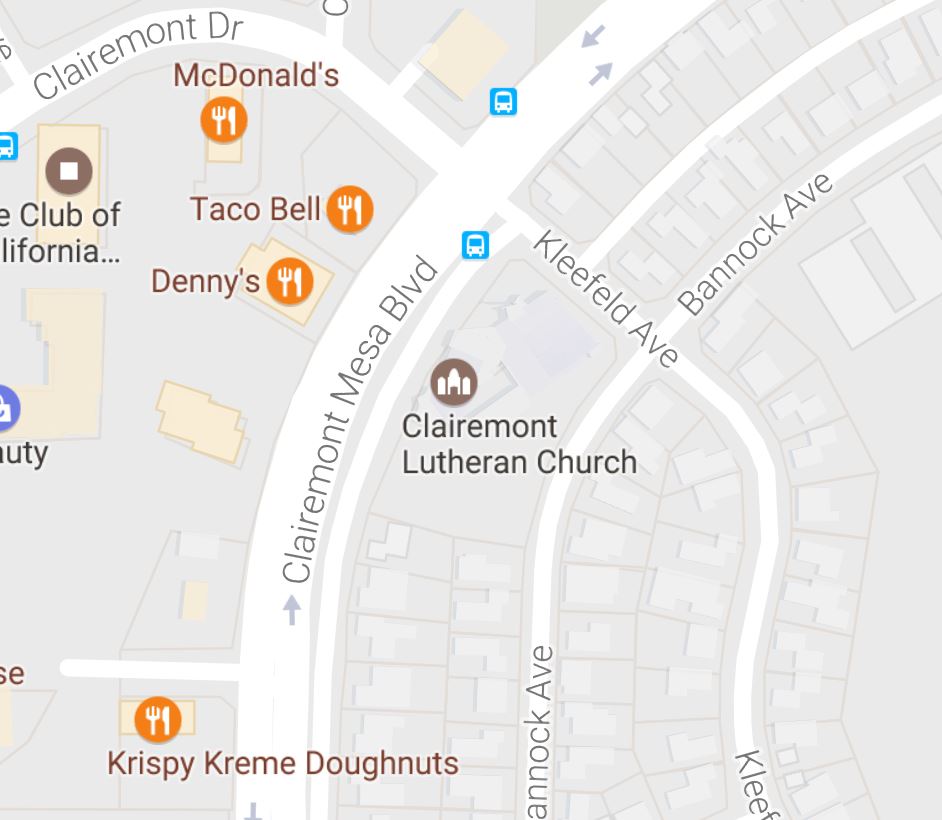 On Highway 52, take the exit for Genesee Ave. South. At the third stoplight (Clairemont Mesa Blvd.), take a right.
At the first stoplight (Clairemont Drive/Kleefield Ave), take a left.
Our church campus is located on the southwest corner. Parking is available behind the church, accessible by the frontage road.
---
COVID-19 precautions
In order to comply with current public health orders in place:
Social distancing is required both indoors and outdoors
Face coverings must be worn at all times, both indoors and outdoors (except for those leading worship)
Additionally, we also ask you to:
refrain from touching/hugging others not in your household
wash your hands and use hand sanitizer (which is available at the entrance to the worship space)
leave the campus after worship has concluded so our volunteers can sanitize the common areas for use by the next group
---
Accessing worship online
Nearly all of our worship gatherings are streamed and archived on our YouTube channel.
Here's a video that shows you how to access our YouTube channel.
Keep in mind you may need to adjust your computer/speaker volume as well as the volume on the YouTube video.
---
Contact the church
Have a question or concern? Please contact the church office.
Offerings can be mailed in to the church office using the address below (or on our contact page) or by giving online.