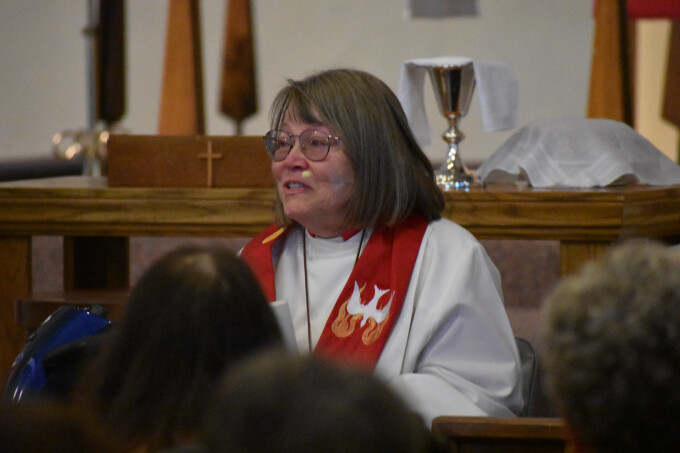 The Call Committee has chosen a candidate to forward for approval to the congregation. The Church Council has affirmed the chosen candidate. Next comes approval by vote by the congregation. Our candidate is Pastor Cyndi Jones.
After months of deliberation by the transition team and the call committee, a candidate was referred to us by the Pacifica Synod for approval. All the considerations of the past several months were taken into account in choosing to forward the name. First, our deliberations resulted in the decision by council to proceed with Elena Enriquez taking the lead with the Spanish language service. Elena will simultaneously pursue ordination through a
program sponsored by the larger church.
The new associate pastor will serve both English and Spanish parts of the church, serving and preaching in both languages as
the ordained pastor in that capacity.
Pastor Cyndi Jones was introduced to our congregation as an intern at our church several years ago. She brings a wealth of wisdom and experience. She has spoken Spanish well in the past and is rapidly bringing her language skills up to a high level through intense training and private tutoring. Cyndi is
exceptionally observant of the needs of those around her, having seeded a grieving ministry during her internship which resulted in a thriving Stephen Ministry at our church now.
She presided over the care of congregants at Atonement Lutheran Church as it closed its doors in June. Cyndi has a rare ability to connect and comfort others. She has built a large network of support over the years. She offers experience and wisdom moving forward.
While our two part approach to forwarding the Spanish language program (Elena and Cyndi) is not what originally we envisioned after the departure of Pastor Nate, through listening, prayer and discernment the committee has chosen to go this new innovative direction. We are all confident that this is a very good thing and encourage congregational approval.